Floating Solar Panels: A Viable Solution?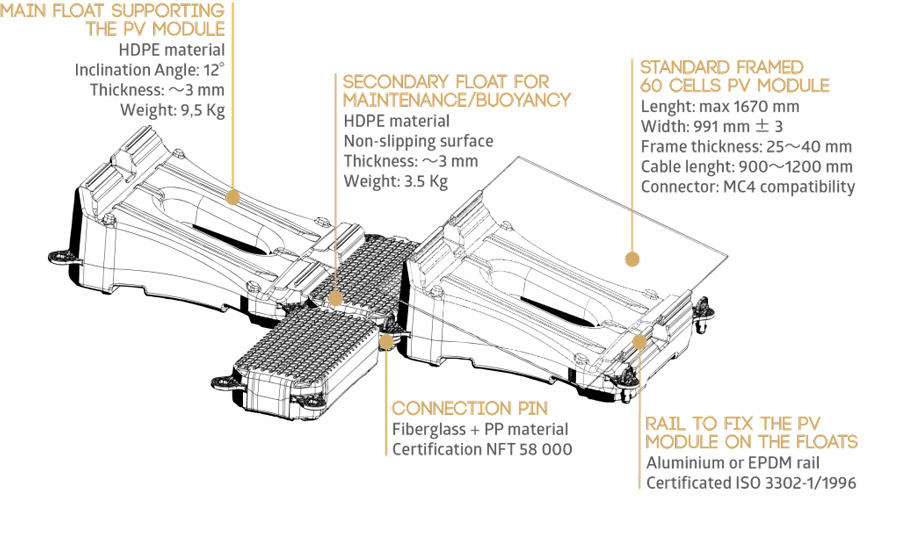 Since 2011, French Company Ciel & Terre has been developing large-scale floating solar solutions. Their innovative Hydrelio Floating PV system allows standard PV panels to be installed on large bodies of water such as: drinking water reservoirs, quarry lakes, irrigation canals, remediation and tailing ponds, and hydro electric dam reservoirs. This simple and affordable alternative to ground-mounted systems is particularly suitable for water-intensive industries who cannot afford to waste either land or water.
How it works:
The main float is constructed of high-density thermoplastic (HDPE) and is set at a 12 degree angle to support a standard 60 Cell PV solar module. A secondary non-slip HDPE float is then used to link the main floats together and provide a platform for maintenance and added buoyancy as illustrated below.
hydrelio-floating-solar-system
According to Ciel & Terre, the system is easy to install and dismantle, can be adapted to any electrical configuration, is scalable from low to high power generation, and requires no tools or heavy equipment. It is also eco-friendly, fully recyclable, has low environmental impact and is cost effective. To date the system has been installed in the UK, and a Japanese system will be installed by March 2016.